Yamaha G55-1 nylon string acoustic (circa 1976)

When I got to Rose Bay High School, playing guitar seemed to be somewhat frowned upon by the music teachers and wasn't allowed in the first year, so I spent a year playing the cornet instead. In grade 8 we were allowed to play guitar, but only in classical style from 'Aaron Shearer's Classic Guitar Technique (NY 1937)' playing pieces such as 'Prelude No 5'. The Yamaha G55 was the guitar we would pull out of the shelves at the start of the lesson each week. The lucky first students into the room would grab the ones with the 'batman' styled tuning pegs, of which there were only a couple, while the rest of the class would have to play the ones with the boring round tuning pegs. I got around this problem by urging my parents to buy me one with the 'batman' tuning pegs for my birthday.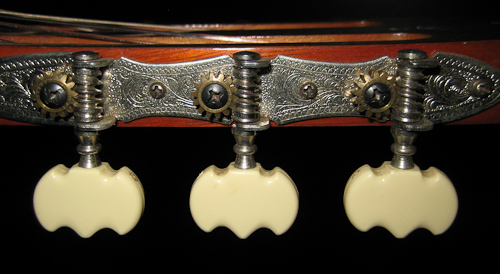 It's labelled 'Republic of China, Made in Taiwan' and would have been made sometime around 1976. Notice that some of those dots from my instruction book made it to the headstock to personalise the guitar! I also added strap knobs so I could play it standing up.
Despite my classical training at school and the widely spaced fretboard, I spent most of the time strumming and singing the songs of The Beatles and Neil Young at my friend Cam's house. This guitar also accompanied me on many camping trips with Lindisfarne Scouts and in my early public appearances in the annual Troop Show.
Until recently I would use it to accompany students with nylon guitars and occasionally pull it out to play 'Is There Anybody Out There' from Pink Floyd's 'The Wall' album, but unfortunately one of the tuners no longer works so it just hangs on the wall in my studio. I've now replaced it with a newer Yamaha.